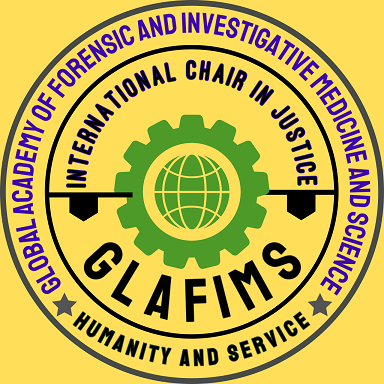 Background: GLAFIMS is abbreviation of the Global Academy of Forensic and Investigative Medicine and Science. This is a collection of people in involved in Forensic Medicine, Forensic Sciences, Investigative Forensic Medicine, Law Persons, Investigative Authorities and Persons, Forensic Pathologists and allied sciences. The Main aim of the association is to collaborate with each other for the academic and professional development.The association has been successfully registered with the registrar and official name is "GLAFIMS ASSOCIATION". GLAFIMS Association is abbreviation of the Global Academy of Forensic and Investigative Medicine and Science. Short Title "GLAFIMS".
VISION
"To uplift the status of forensic medicine, investigative medicine and allied health science nationally and internationally by promoting mutual interaction between stakeholders for the advancement of relevant scientific knowledge".
TERMS AND CONDITIONS
1. GLAFIMS Association is not responsible for the product authenticity displayed in advertisement on website.
2. GLAFIMS Association is not responsible for the typing spelling mistakes of the articles etc displayed in GLAFIMS Association.
3. no part of glafims.org can be reproduced except in case of written permission from the Managing Director.
4. Decision of Managing Director is final in all respect.
5. Nobody is allowed to file any court case ever, in any circumstances, against GLAFIMS Association or any employ or part of GLAFIMS Association.
6. no one is allowed to misuse the website and in such cases is liable of punishment.
7. the payment for advertisement should only be in cash which is not refundable in any case.
8. no one is allowed to change the content of website except under written permission of Managing Director of GLAFIMS Association.
9. you can send your suggestions/articles/ advertisements etc to us . It is upto Managing Director whether to accept it or reject it without any notice or reason.
10. The Managing Director will look into the official matters of the GLAFIMS Association.
11. Dr. Imran Sabri is the sole proprietor of GLAFIMS Association.
12. the webmaster will look into the contents of medbeats.com
13. These terms and conditions are liable to change from time to time without any prior notice or information to any body.
14. medbeats.com is a site that provides only general information.
15. By giving advertisement on Medbeats.com it is assumed that the applicants has read and is ready to abide all the terms and conditions of GLAFIMS Association and glafims.org. Applicant is bound to obey the terms and condition in all respect without any exception.
16. Any information provided by medbeats.com in any form is not a substitute for the medical advice rendered by your personal physician or by your healthcare professional.
17. GLAFIMS Association does not accept any responsibility or liability for any diagnosis or treatment, which is made by any individual, based on any matter/content provided by medbeats.com.
18. Any individual who tries a remedy/course of action based on any suggestion from medbeats.com does so at his/her own risk.
19. Do Not take any medication advised in glafims.org in any circumstances.
20. All members are suppose to follow membership terms. In case of any violation, action can be taken without notice.
21. Visitors of the website are hereby instructed to not to take any medication given directly or indirectly in glafims.org.
22. GLAFIMS Association are concerned only with prevention of disease and spreading health awareness.
23. The terms and conditions are liable to changes at any time without any prior notice [written or verbal] to anybody.
Become a Fan on Facebook: www.facebook.com/GLAFIMS
Follow us on Twitter: www.twitter.com/glafims
Join our LinkedIn Group: www.linkedin.com/company/glafims
Visit is at Instagram: https://www.instagram.com/glafims/
Subscribe our Youtube: https://www.youtube.com/channel/UCaeMjwMecZpMdaTC_7h7zIw
Interact with us on Whatsapp: https://chat.whatsapp.com/ItpoTl8cTmK9aiKDfiPHuh
About GLAFIMS Vision and Mission Governing Council Activities Journal Office Bearers Scientific Chair in Justice Global Coordinators Membership Members List Guidelines Term and Conditions Privacy Policy Refunds and Cancellation Pricing Services Approved Collaborations Contact us Guidelines for Ethical Communication on WhatsApp Groups
_____________________________________________________________________________________________________________________________________________________________________________
Address: G1, Ground Floor, City Center, Medical Road, Aligarh 202002 India E-Mail: glafims@gmail.com web: www.glafims.org
Copyright © 2022-32 by Global Academy of Forensic and Investigative Medicine and Science [GLAFIMS ACADEMY]. All rights reserved. Last Updated: October 20, 2022