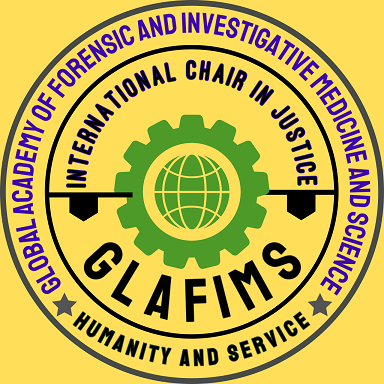 Our Activities
1. CME on Forensic Radiology held on 18th July, 2022 organized by Department of Radiodiagnosis and Department of Forensic Medicine at AIIMS, Bibinagar in association with GLAFIMS. Click here to Download Brochure and CME Banner
2. State CME on Medico-Legal Updated and Exhibition on Wednesday November 9, 2022 by Department of Forensic Medicine and Toxicology, Shri Guru Ram Rai Institute of Medical and Health Sciences, Dehradun, Uttarakhand INDIA. Click here to Download Brochure.
3. Webinar conducted by GLAFIMS, Under: GLAFIMS Forensic Radiology Series. Topic: Can PMCT's substitute for Forensic autopsies in determining the cause and manner of death? A series of case reports.
Date: November 17, 2022, Day: Thursday.
4.CME Cum Workshop on "Child Abuse: Protection of Child from Sexual Offences Act 2012 and Role of Healthcare Professional" by Sarojini Naidu Medical College, Agra, INDIA. Day and Date: Saturday, December 10, 2022. Time: 09.00AM-06.00PM. Venue: Lecture Theatre 1 [LT-1] (Academic Block), S.N.M.C AGRA. Download PDF: Flyer, Brochure.
5. Inauguration of IJMJ online issue by Professor Mukesh Yadav, President, IAFM on Republic Day Event, Thursday January 26. 2023. PDF Press Release
About GLAFIMS Vision and Mission Founder Governing Council 2022 Governing Council 2023 Activities Journal [IJMJ] Office Bearers Scientific Chair in Justice Global Coordinators Types of Membership Members Benefits Members List Guidelines Membership Term and Conditions Privacy Policy Refunds and Cancellation Fee Structure Discounted Fee Services Approved Collaborations Collaborate with us Apply to Deliver CME/CPD Apply for CME/CPD Sponsorship Guidelines for Ethical Communication on WhatsApp Groups Contact us
Our Collaborators:
_____________________________________________________________________________________________________________________________________________________________________________
Address: G1, Ground Floor, City Center, Medical Road, Aligarh 202002 India E-Mail: glafims@gmail.com web: www.glafims.org
Copyright © 2022-32 by Global Academy of Forensic and Investigative Medicine and Science [GLAFIMS ACADEMY]. All rights reserved. Last February 11, 2023