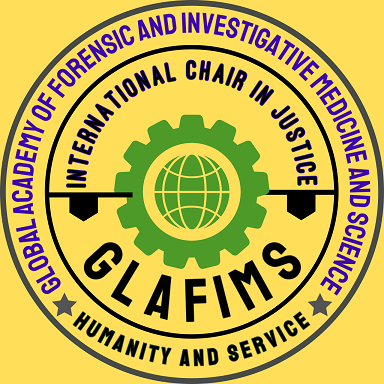 The collaboration will be purely academic in nature. The main aim of GLAFIMS is "To uplift the status of forensic medicine, investigative medicine and allied health sciences nationally and internationally by promoting mutual interaction between stakeholders for the advancement of relevant scientific knowledge", if you somehow can help us in establishing our aim then we can collaborate with each other as sister associations. GLAFIMS is aware that since we are a new association, you may face some honest reservations and concerns from your members. GLAFIMS is ready to clarify all such queries and questions. As a new academy we are in the establishing phase so we don't have many benefits for you as a sister association, however we can offer you some space in www.forensicindia.com to highlight your tasks and functions without any financial burdens. Forensicindia.com is our sister association.You can find details about us on our official website www.glafims.org . Please follow the link to confirm your participation with us, in case you still have not decided, Please ignore this communication. Once you confirm by filling up an online form, we are in a better position to call a formal meeting, in order to mature the collaboration with more speed.
International Collaborators:
1. The " FORUM LEX - Professionisti in rete " Association, Italy
2. ACCDON LLC, USA
National Collaborators:
1. forensicindia.com
2. Sikkim Skill University, Sikkim
2. Vizopsy Advanced Forensics Solutions Pvt. Ltd. | Mumbai 86, India. www.virtual-autopsy.com
3. Department of Forensic Medicine and Toxicology, Shri Guru Ram Rai Institute of Medical and Health Sciences, Dehradun, Uttarakhand INDIA
4. Department of Forensic Medicine and Toxicology, Sarojini Naidu Medical College, Agra
List of our approved Affiliations/Partners/Collaborators
1. FORUM LEX ASSOCIATION, ITALY.
2. ACCDON LLC, USA
3. Cashfree Payment Gateway Services.
4. Website www.forensicindia.com
5. Website www.medbeats.com
6. Vizopsy Advanced Forensics Solutions Pvt. Ltd. | Mumbai 86, India. www.virtual-autopsy.com
7. Department of Forensic Medicine and Toxicology, Shri Guru Ram Rai Institute of Medical and Health Sciences, Dehradun, Uttarakhand INDIA
8. Department of Forensic Medicine and Toxicology, Sarojini Naidu Medical College, Agra
9. Department of Forensic Medicine, AIIMS Bibinagar
10. Sikkim Skill University, Sikkim
Apply for collaboration with GLAFIMS
About GLAFIMS Vision and Mission Founder Governing Council 2022 Governing Council 2023 Activities Journal [IJMJ] Office Bearers Scientific Chair in Justice Global Coordinators Types of Membership Members Benefits Members List Guidelines Membership Term and Conditions Privacy Policy Refunds and Cancellation Fee Structure Discounted Fee Services Approved Collaborations Collaborate with us Apply to Deliver CME/CPD Apply for CME/CPD Sponsorship Guidelines for Ethical Communication on WhatsApp Groups Contact us
Our Collaborators:
_____________________________________________________________________________________________________________________________________________________________________________
Address: G1, Ground Floor, City Center, Medical Road, Aligarh 202002 India E-Mail: glafims@gmail.com web: www.glafims.org
Copyright © 2022-32 by Global Academy of Forensic and Investigative Medicine and Science [GLAFIMS ACADEMY]. All rights reserved. Last February 11, 2023